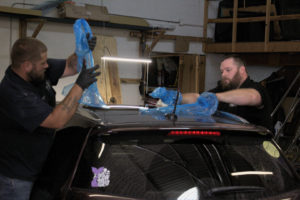 Spring rain, high wind, summer storms – all are enough to deal with in Northeast Ohio, but unfortunately hail may also be in the mix. Often, these small pellets of ice are inconsequential, but hail comes in different sizes and the larger ones can cause some serious damage, especially to your auto glass.
Large hail falling with significant force – 25 to 40 miles an hour – will typically accompany a severe thunderstorm. With supercell storms, weather experts say that large hail can fall at more than 40 miles an hour. Most car owners (and homeowners) report damage from such storms.
An unprotected car in the open is at serious risk for windshield damage even with smaller hail. Sunroofs are a little tougher, but large hail from a supercell storm is likely to crack or shatter a sunroof. A hail damaged windshield or sunroof is never convenient, but knowing what to do and who to call can help you get through repairs more quickly.
Senneco Auto Glass can repair hail damage to your sunroof or windshield
Check your vehicle for damage as soon as possible after a storm, but don't rush into clean up. Hail damage is generally covered on your comprehensive auto insurance so your first step should be calling your agent.
Take pictures of the damage to your vehicle before moving or cleaning it. Talk to your insurance agent to learn if there is any specific documentation, they will need to begin a claim.
If your windshield is shattered or the damage affects the driver's side, do not attempt to drive your vehicle. Aside from obscured views, a damaged window could completely shatter with any movement.
For small cracks or chips, your auto glass expert may be able to repair your windshield. The team at Senneco Auto Glass can advise you as to repairs or if replacement is recommended.
If there is any hail damage on your vehicle, have the windshield, side windows and sunroof inspected for chips or cracks even if you do not see any. A hairline crack is easy to miss and could cause more serious damage if left unaddressed.
Never attempt to tape a cracked windshield or sunroof.
At Senneco Auto Glass, our experts can repair chips or cracks in your windshield if they are less than two inches in diameter and less than six inches long. Need repairs for your sunroof or power windows in Cleveland, Akron, or Cuyahoga Falls? We provide these services, including mobile glass services. Call today!