Need new glass? We will come to you!
While it's essential that you don't delay on hiring auto glass service, you should never have to put yourself or your passengers in danger to do it. Senneco Auto Glass lets you stay safe by bringing the service to you. We offer complete mobile auto glass in Cuyahoga Falls, OH, that includes auto glass repair and replacement. From the tiniest of chips to wide webs of cracks, our technicians know exactly how to take care of it. Our more than 40 years in the industry have taught us how to do any job quickly and thoroughly.
The best part about our mobile car glass service is that you can always count on it to be there for you. Unlike other shops, we operate our service on a 24-hour basis, so you can call us at any time of the day or night. We know that car trouble has a habit of occurring at the most inconvenient times, and are willing to be there for you when it does. Our crew responds quickly and brings both new and used auto glass and all of the equipment needed to install both.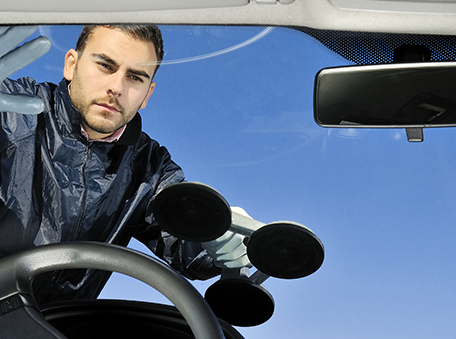 Convenient Car Glass Repair Service
Even if you're not in an emergency situation, our mobile auto glass repair could still come in handy for you. Maybe you work during normal business hours and can't spare the time off, or your car was vandalized in your driveway and you're unable to leave your home. We understand that sometimes things come up that you can't help. That's why we're willing to make the extra effort to accommodate you and your auto glass needs.
Each job we do is accompanied by a free estimate, so you always know the cost before you get the bill. We're flexible in our payment options and are glad to explain the different auto glass services available to you so you can find the one that fits your budget. If the service you need is covered by insurance, we accept that as well.
Now You Can Hire Our Service Sooner, Not Later
One of the main reasons we offer mobile auto glass replacement and repair is so you won't have to put off getting the services you need. Even the tiniest bit of damage can spread in less than a minute, and driving with compromised or shattered glass is extremely dangerous and often illegal. Our 24/7 mobile service ensures that you don't end up having to wait until you can take off work or find the right time to come to our shop. Now we come to you, wherever you are and whenever you need us.
Contact us for quick service that's always there. We drive out to customers in Cuyahoga Falls, Akron, Stow, Hudson, and Barberton, Ohio, and the neighboring areas.
Have a question? Contact us today!